San Francisco Bay Area Chapter leadership
The AAJA San Francisco Bay Area Chapter board is elected by its members. The board meets regularly to plan activities, programs and fundraisers as well as discuss issues relevant to the chapter and our members. For information about the next board meeting, contact aajasanfrancisco@gmail.com. Board meeting minutes are available to chapter members upon request. Meet the officers and board members for 2022:
---
CECILIA LEI, President
Cecilia Lei is an Oakland-based multimedia producer and reporter whose work includes coverage of race, immigration, criminal justice, as well as the Asian American community in the Bay Area. Her audio, video and written stories have appeared on Vox Media, KQED, Curious, NBC Bay Area, NPR and the East Bay Express. Cecilia currently co-hosts and produces San Francisco Chronicle's Fifth and Mission daily news podcast.
Before joining the Chronicle, she produced Today, Explained, Vox Media's daily news podcast. Previously, she was a media executive who spearheaded campaigns and initiatives to support diversity in media representation. Cecilia has been a part of the AAJA-SF Board since 2018 as a student representative and an at-large board member. She was also a part of the AAJA Voices class in 2018. Cecilia is a Bay Area native and graduated from UC Berkeley's Graduate School of Journalism.
Twitter: @CeeLei
---
MARIECAR MENDOZA, Vice President
Mariecar Mendoza is proud to serve on the board of her very first AAJA chapter, which she joined while a student in the Bay Area. She has since been an active member of AAJA, including as a Voices student in 2006 and later a Voices mentor and Executive Leadership Program graduate. She is now co-director of AAJA Features Forum, an affinity group that aims to provide programming, services and support for arts, entertainment and lifestyle journalists of color. Mariecar works at the San Francisco Chronicle as the senior arts and entertainment editor, where she manages daily coverage and audience engagement for Datebook and datebook.sfchronicle.com.
Prior to the Chronicle, Mariecar was a features digital editor for the Los Angeles News Group, helping cover major pop culture events, and arts and entertainment news in Southern California. While living in Los Angeles, she served as vice president of the AAJA-LA chapter and the chapter's V3con steering committee co-director. Mariecar was born in Oakland and raised in San Jose. She earned her degree in journalism from Cal Poly San Luis Obispo.
Twitter: @SFMarMendoza
---
KELLIE HWANG, Secretary
Kellie Hwang first became involved in AAJA as a Voices student and has been involved with the organization for years on many different levels, including as an active member, co-director of the Features Forum and as an Executive Leadership Program graduate.
Kellie is currently a reporter working on the San Francisco Chronicle's engagement team, focusing on health, real estate and climate stories. She previously covered transportation and trending news at the IndyStar, was a dining, and arts and entertainment reporter at the Arizona Republic and a correspondent at the former Contra Costa Times. Kellie is a Bay Area native raised in Danville and earned her communications and journalism degree from the University of Washington.
Twitter: @KellieHwang
---
HARRY MOK, Treasurer
Harry Mok has been an active member of AAJA throughout his career, dating back to receiving scholarships while in college from the Sacramento and San Francisco Bay Area chapters. He has served on the national AAJA Media Watch Committee, been a mentor for the Voices project and is an Executive Leadership Program graduate. Harry is the assistant opinion section editor at the San Francisco Chronicle.
Harry previously was a copy editor at the Chronicle and has been a journalism lecturer at San Francisco State, an online producer for the Bay Area News Group and an editor at Newsday in New York. He was also editor in chief of Hyphen, a volunteer-run magazine covering Asian America. Harry grew up in the Sacramento area and has journalism degrees from San Jose State and the UC Berkeley Graduate School of Journalism.
Twitter: @HarryMok
---
JANELLE BITKER, At-large board member
Janelle Bitker is a food reporter at the San Francisco Chronicle, covering Bay Area culture through a food lens. Previously, she was a reporter at Eater SF, managing editor at the East Bay Express, and the arts and culture editor at the Sacramento News & Review. Her writing has been recognized by the California Newspaper Publishers Association and Association of Alternative Newsmedia. Janelle is an Alameda native and lives in Berkeley. She first joined AAJA as a student at UC Davis.
Twitter: @JanelleBitker
---
KRISTEN HWANG, At-large board member
Kristen Hwang is a filmmaker and freelance journalist with a focus on data-driven reporting and public health. Her recent work includes coverage of AAPI maternal and infant health disparities in the East Bay, childhood lead exposure in Oakland, chronic health outcomes from wildfire smoke exposure and California's rocky rollout of coronavirus testing. She is a recent graduate of UC Berkeley with a master's from the Graduate School of Journalism and a master's in public health.
Kristen has been a proud AAJA member since her time as an undergraduate at Arizona State University and previously served as a student representative on the AAJA-SF board. Prior to moving to the Bay Area, Kristen worked as an education reporter in Palm Springs and has been published in the New York Times, CalMatters, the East Bay Times, USA Today and elsewhere.
Twitter: @khwangreports
---
SONIA PAUL, At-Large Board Member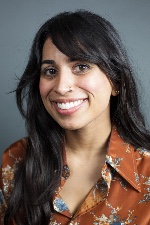 Sonia Paul is a freelance journalist and audio producer based in Oakland. Her stories have aired and published widely in outlets that include NPR, 70 Million, Studio 360, WIRED, the Atlantic, Harper's and the New York Times. She previously lived and reported in Japan and India, and has specialized on the politics of the South Asian diaspora. Her work has been recognized and supported by the Association of Independents in Radio, Religion News Association, Schuster Institute for Investigative Journalism and the International Women's Media Foundation, among other organizations.
Sonia is a Bay Area native and the daughter of immigrants from India and the Philippines, and she is proud to serve on the AAJA-SF board.
Twitter: @sonipaul